Description
This Vu TV is here to ensure that you stay thoroughly entertained and completely immersed as soon as you turn on the TV, thanks to its innovative features. The Pixelium Glass technology helps optimise brightness and also enhances the High Dynamic Range with HDR10, HLG, and Dolby Vision to make your TV-watching experience all the better. The master speakers and tweeters are custom-tuned to deliver the quality of an expansive soundstage. The sports noise cancellation technology will help you focus on the game.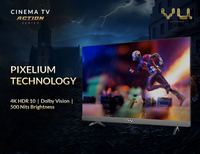 Improves Overall Brightness
This TV makes use of the Pixelium Glass technology that helps optimise light reflections so that the overall brightness can be improved. You can also enjoy High Dynamic Range with HDR10, Dolby Vision, and HLG.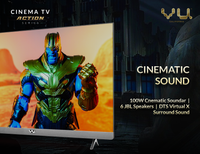 Cinematic Experience
You can enjoy a cinematic experience in the comfort of your home, thanks to the integrated soundbar of the TV. The speakers and the tweeters are tuned accordingly to make sure that you enjoy a wide soundstage. The noise cancellation technology also helps reduce noise and enhances vocals to give you immersive audio clarity.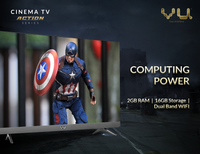 Smooth Performance
This TV features a powerful quad-core processor and also comes with 2 GB of RAM to ensure that you get to enjoy the TV's smooth Android interface. When you shift through apps such as Netflix, Disney Hotstar, YouTube, and more, you'll get a seamless OTT experience.
Free of Blur and Judder
This TV not only has a fast processor and RAM but it's also equipped with MEMC. With enhanced MEMC (motion estimation, motion compensation), the visuals on TV will be free of motion blur and judder. The specialised hardware by Vu also makes the TV ideal for gamers.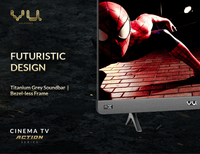 Aesthetic Design
This TV features an aesthetic finish that makes it look understated and stealthy. It's designed to give you an enjoyable experience, every time.